Loading... Please wait...
Trace Heating Controllers
We provide a complete range of accessories for the heating element systems. The installation of the heater cables requires junction box, adhesive tape, connection kits, heat tracing warning labels and fitting accessories. These accessories are essentials to be sure that the heating system will work in optimum conditions and comply with standard requirement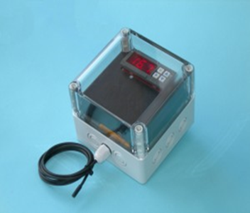 Temperature controls are provided to:
· Ensure Temperature Softy
· Ensure Process temperatures
There are three types of control systems that we can use;
1) No control. The heater is constantly energised and the final application temperature will be a function of the heater output, insulation and local ambient conditions
2) Ambient control. The heating system is controlled by the ambient temperature. This is typical for Fast protection systems where no critical temperature limits are imposed.
3) Surface Control. The heating is directly controlled as a function of the work piece temperature.
When temperature controllers are used they should be rated for the requirements of the installed area.
| | | | | | |
| --- | --- | --- | --- | --- | --- |
| Reference | Type | IP rating | Switch rating | Entries | Aux Relay |
| DT-A-1 | Ambient Sensing | 67 | 20 amps @ 110 vac | 6 x 20mm | no |
| DT-A-1-VF | Ambient Sensing | 67 | 20 amps @ 110 vac | 6 x 20mm | yes |
| DT-A-2 | Ambient Sensing | 67 | 20 amps @ 240 vac | 6 x 20mm | no |
| DT-A-2-VF | Ambient Sensing | 67 | 20 amps @ 240 vac | 6 x 20mm | yes |
| DT-P-1 | Surface Sensing | 67 | 20 amps @ 110 vac | 6 x 20mm | no |
| DT-P-1-VF | Surface Sensing | 67 | 20 amps @ 110 vac | 6 x 20mm | yes |
| DT-P-2 | Surface Sensing | 67 | 20 amps @ 240 vac | 6 x 20mm | no |
| DT-P-2-VF | Surface Sensing | 67 | 20 amps @ 240 vac | 6 x 20mm | yes |